Faculty of Color Cross-Institutional Mentorship Program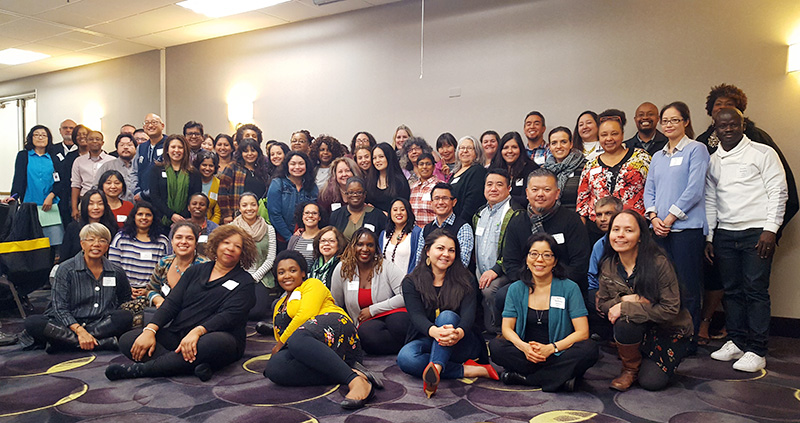 The Faculty of Color Cross-Institutional Mentorship Program serves full-time tenured and tenure-track faculty who identify as being of color by naming and challenging historical institutional barriers through:
Supporting and facilitating faculty development, personally and professionally, through one-to-one and group mentoring.
Increasing collaboration and networking opportunities cross-institution.
Creating a community that will impact the success and retention of faculty of color at their respective institutions.
Offering professional learning opportunities targeted towards making explicit the link between student success and faculty development — improving instructional quality.
Developing individual and collective capacity in effective cross-cultural communication.
Further identifying and growing professional development programming addressing the needs unique to faculty of color in our Washington State community and technical college system.
While designed to support individual faculty members as they grow in their new roles, this program will also indirectly:
Impact future recruitment and hiring of diverse faculty, and
Improve the cultural climate of our institutions.
2018-2019 Retreats
Retreat
Date and Location
Fall Retreat
Oct. 5, 2018, 9 a.m. to 4 p.m. – LaQuinta Inn & Suites, Tacoma
Winter Retreat
Jan. 25, 2019, 9 a.m. to 4 p.m.

–

LaQuinta Inn & Suites, Tacoma
Spring Retreat
May 10, 2019,

9 a.m. to 4 p.m. – LaQuinta Inn & Suites, Tacoma
Current Retreat
Past Retreat Materials
Meeting materials and handouts for past retreats.
Advisory Council and Participants
Membership information including Advisory Council contacts and current year participants.
Resources
Faculty interviews, testimonials, assessment/data and more.
Expand All
Contact the Advisory Board