SBCTC Equity, Diversity and Inclusion (EDI) Team Members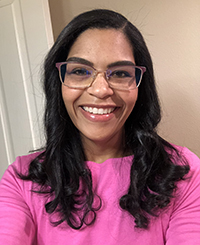 Melissa Williams (she/her)
Policy Associate/ Interim Director for Equity, Diversity, and Inclusion
Melissa is a Pacific Northwest native from the Portland/Vancouver area, the traditional territories of the Multnomah, Cowlitz, and Chinook peoples. She is Black-White biracial. Her mother's family of educators and engineers hails from New York, Ohio, Pennsylvania, and Illinois. Her father's family is rooted in Texas where they were enslaved and then forged lives as sharecroppers and farmers after emancipation.
Melissa earned an A.A. from Clark College, a B.A. in History from the University of Washington, and an M.A. in Public History from Washington State University with a concentration in African American and social history. She is currently pursuing an Ed.D. in Educational Leadership at Portland State University. Melissa's professional journey in higher education began in 2005; she has held several student services positions. Before joining the State Board, she served as Director of Student Equity and Inclusion at Clark College.
Outside of work, Melissa is often invited to provide diversity, equity, and inclusion training for institutions, organizations, churches, and businesses. Additionally, her passion for history inspires her to participate in local history projects and to speak to various audiences about Vancouver, Washington's Black history.
In her free time, she enjoys spending time with family and friends, engaging in progressive political action, road trips, camping, podcasts, and watching rugby.
Christina Pleasants (she/her)
Administrative Assistant for Equity, Diversity, and Inclusion
Christina will be supporting the ever-growing EDI efforts across our CTC system and within our own agency. She has a passion for constructive development for students and youth. Christina is always eager to learn, namely through Professional Development and Leadership Development opportunities, and continues to put her most authentic self into her work.
Christina was born and raised in Washington State, primarily in Tacoma, WA where she graduated from the University of Washington with a Bachelors in Arts and Science, and a minor in Education. She was a working student while attending UWT and is also intrigued by innovative technology and systems, philosophy, administrative work, and Women's Studies. As a second-generation Asian American and a first-generation University graduate, she is driven in this work and advocates for equitable change for all people of color, especially in higher education.
As a Pacific Northwest/Washington native, she has seen much growth of the people and places within the SeaTac area. She knows that there is still much to be done and hopes to make positive change, from the institutional level and within her community. She aspires to work with others toward a progressive society that values and celebrates all peoples. She comes from a strong and loving, blended family that always supports her and the work she does.
In her free time, she enjoys Do-It-Yourself (DIY) crafts, cross-stitching, exploring new places, and spending time with family and friends. She and her spouse also love bingeing K-dramas and playing video games.
Christopher Carter (he/him)
Dean of Allied Health at Renton Technical College: SBCTC Intern
Born in Los Angeles, California Christopher Carter is a graduate of California State University, Long Beach with degrees in Black Studies and Speech Communication, Charles Drew University of Medicine and Science with a degree in Health Information Technology, he is a life time member of the American Health Information Management Association earning the RHIT and RHIA certification, Argosy University; Master's degree in Educational Leadership and ABD/Ed. D in Educational Leadership. Currently Enrolled at Oregon State University completing an Ed.D in Adult Higher Education. Dissertation title: "The Impact of Mentorship Initiatives on Black Male Community College Students Persistence and Completion."
Christopher's professional background is in health information technology and began his career in 1989 working for several health networks including Blue Cross, Healthnet and Blue Shield. Christopher started his career in higher education in 2000 as a curriculum developer and program director at United Education Institute, where he served an underrepresented, low socio-economic student population for 10 years. For 9 years, he continued his journey in higher education as a program chair and associate dean of allied health for Charter College. In 2015, Christopher was hired by President Kevin McCarthy as the dean of allied health at Renton Technical College; which recently changed to dean of health and human services. He loves working with faculty and staff, and helping students to meet and exceed their personal and professional goals.
Christopher's hobbies include cooking, baking, reading and listening to music. Christopher has been married for 11 years and has two children.