Cascadia College | Field Guide 2021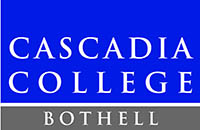 Cascadia College is the youngest of the state's 34 community and technical colleges, established to serve the northeast side of Lake Washington as a comprehensive community college that also offers Basic Education for Adults, ESL, professional-technical certificates and degrees, two Bachelor of Applied Science degrees, corporate and continuing education, and an English language program for international students. Every year, about 75% of students enrolled at Cascadia are intent upon pursuing four-year degrees.
Key Facts
Highest Enrolled Programs
Integrated Studies
Business
Science Transfer Track 2
Pre-Nursing
Biology
Enrollment
Headcount (all sources): 4,887
FTES (all sources): 2,649
Headcount (state-funded): 3,307
FTES (state-funded): 1,574
Students in Selected Programs
Applied bachelor's: 38
International: 354
Running Start: 912
Worker Retraining: 42
Student Profile
Type of Student
Academic/transfer: 69%
Basic skills: 10%
Other: 2%
Workforce education: 19%
Race/Ethnicity*
American Indian/Alaska Native: 3%
Asian: 22%
Black/African American: 6%
Hispanic/Latino: 17%
Pacific Islander: 1%
Other race: 3%
White: 64%
Attendance
Full-time: 44%
Part-time: 56%
Family and Finances
Students receiving need-based financial aid: 18%
Students who work: 56%
Students with children: 19%
Points of Interest
Cascadia scholars program coming fall 2021
A new program designed to holistically support, mentor and coach BIPOC (Black, Indigenous, Persons of Color) students during their time at Cascadia College launches fall 2021. Selected students will meet bi-weekly as a cohort throughout the entire academic year, where they will be connected to different mentors from Cascadia and the greater Seattle community. The program will involve wraparound services that consist of direct connections to the Bock Learning Center, academic advising, and an Equity and Inclusion coach. The goal of Cascadia Scholars is to close the achievement gap and raise the graduation and retention rates among BIPOC students at Cascadia.
Equity, diversity, and power … a requirement
Because we stand for diversity, equity, inclusion and responsiveness, our students explore these issues in their two course, 10-credit Equity, Diversity and Power (EDP) requirement. One five credit "150" course (Communication Studies, Sociology, History, Global Studies or Humanities) grounds students in the needed cognitive tools and background to critically analyze their evolving positions in society, while their second five credit course applies EDP outcomes to academic disciplines. In fulfilling the EDP requirement, students learn how local and global systems of power, privilege and inequality are created and maintained, while they learn how individuals, communities, societies and cultures are impacted by these systems and explore strategies for equitable change. 
More from STEM 4
Cascadia College and University of Washington Bothell are in the process of designing their first shared academic building. The new building, tentatively called STEM 4, is split 50/50 between the two institutions. The 75,000-square-foot building will house new science and tech labs, as well as general classrooms, faculty office spaces, and student gathering and study areas. The project is creating opportunities for faculty interaction across both institutions and for streamlining student pathways in STEM fields.
Data is from the 2019-20 academic year. Reflects headcount unless otherwise noted.

*May not add up to 100% because students may be counted in more than one race. Percentages calculated on reported value.
President
Eric Murray, PhD
Trustees
Roy Captain, chair
Mike Kelly
Janet McDaniel
Dr. Colleen Ponto
Dr. Meghan Quint
Service Area
Snohomish County, northwest King County
Legislative Districts
1, 5, 21, 41, 45, 46, 48