Clover Park Technical College | Field Guide 2021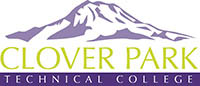 Clover Park Technical College offers 42 programs with over 120 degree or certificate options arranged into seven career pathways: advanced manufacturing; aerospace and aviation; automotive and trades; business and personal services; health and human development; nursing; and science, technology, engineering, and design. With campuses in Lakewood and South Hill, we offer online, hybrid, and on-campus courses for students starting their first career, taking their next step in a career, or finding a new career. Our affordable and accessible programs help people of every age and background, from new high school graduates to seasoned employees, gain new skills and fully participate in our workforce. As a technical college that serves Washingtonians hardest hit by strained economic conditions, we are key to creating stronger and more inclusive opportunities.
Key Facts
Highest Enrolled Programs
Practical Nursing
Associate in Pre-Nursing (DTA/MRP)*
Network Operations and Systems Security
Esthetic Sciences
Aviation Maintenance Technician
*Direct Transfer Agreement/Major Related Program
Enrollment
Headcount (all sources): 6,668
FTES (all sources): 4,044
Headcount (state-funded): 6,185
FTES (state-funded): 3,698
Students in Selected Programs
Applied bachelor's: 30
Apprentices: 51
I-BEST: 270
International: 36
Running Start: 104
Worker Retraining: 403
Student Profile
Type of Student
Academic/transfer: 6%
Basic skills: 3%
Other: 1%
Workforce education: 90%
Race/Ethnicity*
American Indian/Alaska Native: 4%
Asian: 14%
Black/African American: 18%
Hispanic/Latino: 14%
Pacific Islander: 4%
Other race: 1%
White: 61%
Attendance
Full-time: 59%
Part-time: 41%
Family and Finances
Students receiving need-based financial aid: 50%
Students who work: 55%
Students with children: 38%
Points of Interest
Pandemic-proof pathways
Clover Park Technical College (CPTC) partners with local businesses to ensure employers have a well-prepared talent pipeline, and that students have high-wage, high-demand options that can withstand economic disruptions. To meet those needs, CPTC expanded its Bachelor of Applied Science (BAS) degree options in the past year, and, with support from Career Launch funds and a grant from the Office of the Lieutenant Governor, prepared to offer two new healthcare apprenticeship models. CPTC's hands-on technical education fills a demand not met by other colleges in our community.
Healthcare apprenticeships
In partnership with the SEIU Healthcare 1199NW Multi-Employer Training Fund, CPTC laid the groundwork for innovative, distance-learning solutions for adults seeking to leverage their background and experience towards affordable degrees in healthcare. Using the apprenticeship model, these programs offer affordable online instruction, as well as paid on-the-job training. In October 2020, an advisory body led by representatives from UW Medicine, Harborview Medical Center, the Workforce Training and Education Coordinating Board, the Allied Health Center of Excellence, among others, identified pathways for a Peer Counselor and Behavioral Health Technician apprenticeship program for development in 2021.
New BAS programs
The Cybersecurity BAS (BAS-CYBER) provides working adults a pathway to cybersecurity jobs requiring a bachelor's degree. Businesses and service providers created additional positions in response to threats such as ransomware and sophisticated phishing attacks. The new Mechatronics BAS (BAS-META) offers graduates entry into a multidisciplinary field combining mechanical, electrical, software, control and computer engineering. BAS-META coursework brings additional engineering math and physics, as well as hands-on work with cutting-edge industrial technology and practices such as IIOT, digital twins, sustainable manufacturing, AI and data analytics, robotic integration, and vision systems. Students learn to use cyber-physical systems to increase productivity while achieving social, environmental and economic sustainability.
Data is from the 2019-20 academic year. Reflects headcount unless otherwise noted.

*May not add up to 100% because students may be counted in more than one race. Percentages calculated on reported value.
President
Dr. Joyce Loveday
Trustees
Eli Taylor, chair
Mark Martinez
Carol Mitchell
Lua Pritchard
(Harold) Wayne Withrow
Service Area
Pierce County
Legislative Districts
2, 25, 26, 27, 28, 29, 30, 31