Cascadia College | Field Guide 2023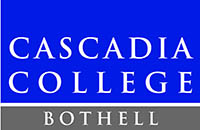 Cascadia College is the youngest of the state's 34 community and technical colleges, established to serve the northeast side of Lake Washington as a comprehensive community college that also offers Basic Education for Adults, ESL, professional-technical certificates and degrees, two Bachelor of Applied Science degrees, corporate and continuing education, and an English language program for international students. Every year, about 75% of students enrolled at Cascadia are intent upon pursuing four-year degrees.
Key Facts
Highest Enrolled Programs
Integrated Studies
Business
Biology
Science Transfer Track 2
Pre-Nursing
Enrollment
Headcount (all sources): 3,414
FTES (all sources): 1,754
Headcount (state-funded): 2,280
FTES (state-funded): 1,027
Students in Selected Programs
Applied bachelor's: 62
International: 128
Running Start: 703
Worker Retraining: 30
Student Profile
Type of Student
Academic/transfer: 68%
Basic skills: 7%
Workforce education: 6%
Other: 20%
Race/Ethnicity*
Students of color: 52%
American Indian/Alaska Native: 2%
Asian: 32%
Black/African American: 5%
Hispanic/Latino: 14%
Pacific Islander: 1%
White: 63%
Attendance
Full-time: 46%
Part-time: 54%
Family and Finances
Students receiving need-based financial aid: 20%
Students with dependents: 22%
Points of Interest
Redmond Together Center
Cascadia will operate a classroom in the Redmond Together Center campus where more than 20 nonprofit partners provide services to 30,000+ culturally and socioeconomically diverse residents of East King County annually. Cascadia will design courses to support the partners' clients who visit the Together Center for medical, dental and behavioral health care; disability and child care services; job training; and other critical services. With a location only three blocks from the Redmond Transit Center, the campus is easily accessible.
STEM & University of Washington Bothell (UWB) partnership
Cascadia College is partnering with UW Bothell to remove multiple barriers for low-income pre-Engineering students. Using combined faculties and infrastructures, we provide joint learning experiences, resources and information for our shared students. We are drafting articulation agreements, building scholarship opportunities and making class visits part of our practice. The initial work began with a STEM Transfer Partnership grant and will support the joint occupation and programming in the new Innovation Hall.
Foundations of E&I course
The Office of Equity and Inclusion at Cascadia has created an online 10-module Equity and Inclusion (E&I) Foundations course for employees that covers basic elements of equity and inclusion for the beginner. The course is facilitated by the executive director of equity and inclusion and is highly popular among Cascadia College faculty and staff. The course provides a safe space for employees to engage in reflection, share insights, ask questions and develop a personal call to action on issues relating to E&I. Through peer-to-peer sharing, the course lays the foundation for further learning.
Data is from the 2021-22 academic year. Reflects headcount unless otherwise noted.

*Students of color percent based on unduplicated headcount. Students may be counted in more than one race, so race/ethnicity percentages may not total 100%. Percentages calculated on reported value.
President
Dr. Eric Murray
Trustees
Dr. Colleen Ponto, chair
Dr. Meghan Quint, vice chair
Norman Seabrook
Angie Hinojos
Mike Kelly
Service Area
Snohomish County, northwest King County
Legislative Districts
1, 21, 41, 45, 48