Clover Park Technical College | Field Guide 2023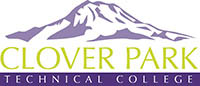 Clover Park Technical College offers 42 programs with over 120 degree or certificate options arranged into seven career pathways: advanced manufacturing; aerospace and aviation; automotive and trades; business and personal services; health and human development; nursing; and science, technology, engineering, and design. With campuses in Lakewood and South Hill, we offer online, hybrid, and on-campus courses for students starting their first career, taking their next step in a career, or finding a new career. Our affordable and accessible programs help people of every age and background, from new high school graduates to seasoned employees, gain new skills and fully participate in our workforce. As a technical college that serves Washingtonians hardest hit by strained economic conditions, we are key to creating stronger and more inclusive opportunities.
Key Facts
Highest Enrolled Programs
Practical Nursing Certificate
Pre-Nursing DTA*
Network operations and Systems Security
Esthetic Sciences
Cosmetology
*Direct Transfer Agreement
Enrollment
Headcount (all sources): 5,127
FTES (all sources): 3,125
Headcount (state-funded): 4,736
FTES (state-funded): 2,780
Students in Selected Programs
Applied bachelor's: 79
Apprentices: 94
I-BEST: 326
International: 27
Running Start: 104
Worker Retraining: 399
Student Profile
Type of Student
Academic/transfer: 7%
Basic skills: 3%
Workforce education: 89%
Other: 1%
Race/Ethnicity*
Students of color: 53%
American Indian/Alaska Native: 4%
Asian: 13%
Black/African American: 20%
Hispanic/Latino: 18%
Pacific Islander: 4%
White: 61%
Attendance
Full-time: 66%
Part-time: 34%
Family and Finances
Students receiving need-based financial aid: 37%
Students with dependents: 45%
Points of Interest
Palmer Scholars partnership builds pre-apprenticeship
Palmer Scholars connects young adults to family-wage careers via its articulation agreement with the Pierce County Roofers Apprenticeship (PCRA), which provides family-sustaining earnings for low-income young men and women of color in Pierce County. Once participants graduate from the Palmer Pathways Pre-Apprenticeship 14-week program, they are eligible to enter directly into apprenticeship at the PCRA training center in Tacoma. Clover Park's Lakewood campus houses the training facility. Palmer Pathways provides up to 14 weeks of rigorous training, guidance, mentoring, financial support and socioemotional support services. Apprentices earn wages, credit toward becoming a journeyperson, healthcare and employer-paid pensions.
Good teaching supports good learning
CPTC strives to focus on student engagement, learning and retention by engaging faculty in essential pedagogies with extensive support from the Teaching and Learning Center (TLC). Recent projects, funded in part by US Department of Education Institutional Resilience and Expanded Postsecondary Opportunity (IREPO) grants, include:
Hosting the Summer Open Education Practices Faculty Institute.
50+ faculty taking the ACUE course Effective Online Teaching Practices.
Participating in Achieving the Dream's Teaching and Learning Cohort, Building Capacity for Change, resulting in an action plan for the TLC.
Faculty engaging with instructional designers to implement high-impact practices with an equity lens.
Yearlong pathways structure allowing faculty to choose between four tracks covering 48 hours of pedagogical training.
Strengthening programs and curricula with outcomes and assessment initiatives
Embedded in CPTC's culture is a commitment to continuously develop and improve programs and curricula. During the 2021-22 academic year, CPTC has engaged in a large-scale program and curriculum development process, sparked by the college's inaugural Outcomes and Assessment Day initiatives. As a result, 21 programs and disciplines initiated 300 curricular changes to align with up-to-date industry needs, accreditation/licensure requirements and Guided Pathway principles. Eighteen programs made significant progress in updating program facilities, equipment and technology, which strengthened industry partnerships and community involvement.
Data is from the 2021-22 academic year. Reflects headcount unless otherwise noted.

*Students of color percent based on unduplicated headcount. Students may be counted in more than one race, so race/ethnicity percentages may not total 100%. Percentages calculated on reported value.
President
Dr. Joyce Loveday
Trustees
Alice Phillips, chair
Tong Zhou, vice chair
Mark Martinez
Carol Mitchell
Eli Taylor
Service Area
Pierce County
Legislative Districts
2, 25, 26, 27, 28, 29, 31