ctcLink & ERP Resource Hub, One Voice for Accessible Technology, Shared Expertise
August 16, 2018 by ctcLink Communications
Where to Find ctcLink Documents and Resources
Ever get confused about where your favorite ctcLink- and ERP-related online tools and resources are located? Was that handy report in the ctcLink Document Repository (cDR)? Or maybe it was in Canvas.
Check out Where to Find ctcLink Documents and Resources, a new one-stop for commonly used ctcLink- and ERP-related tools and resources, so you can just CLICK and GO.
Disclaimer: In some cases, it will be "CLICK, realize you need permission for access, seek and get permission (if authorized), and then GO." Or, in some cases, NO go. Certain links and tools are not allowed due to network security considerations.
This tool ̶ which includes publicly available information and others requiring log-in credentials̶ was suggested by a ctcLink contractor and grew based on feedback from several ERP and ctcLink team members. You can find it on the right-hand column at the main ctcLink page.
It's your tool, so try it out and let us know if you have revisions or additions.
One Voice for Accessible Technology
A team of college and SBCTC leaders co-authored a powerful call-to-action in the Aug. 6, 2018 edition of EDUCAUSE Review, an open-access digital and print publication for the higher education information technology (IT) community.
Accessibility at the Enterprise Level: Searching for a Cohesive Voice within a Fractured Ecosystem proposes that by collaborating and cooperating, higher education can build the ecosystem needed to provide accessible technology to all users.
In the article, authors Jess Thompson, SBCTC accessible technology initiatives program administrator; Tim Wrye, Highline College CIO executive director of IT services; Mark Jenkins, SBCTC director of eLearning and open education; and Christy Campbell, SBCTC ctcLink project director, suggest that colleges and universities of all types and sizes work together on technology procurement language and requirements.
This will improve our shared ability to hold vendors accountable to test and verify their products' accessibility and we can slowly develop the expectations and shared understanding that will ultimately benefit both vendors and clients.
Sharing our PeopleSoft Expertise
Irena Marinova, SBCTC functional analyst for Human Capital Management, was invited to speak at the Southwest Regional Higher Education User Group (SWHEUG) conference, held in San Diego in mid-July.
Marinova presented End-to-End: Payroll Processing Checklist, demonstrating the checklist used semi-monthly by Human Capital Management (HCM) administrators to ensure successful payroll processing as well as how the checklist is leveraged to perform system integration testing (SIT) and user acceptance testing (UAT).
HEUG is an international organization comprising all levels of higher education that use Oracle applications and technology, including PeopleSoft.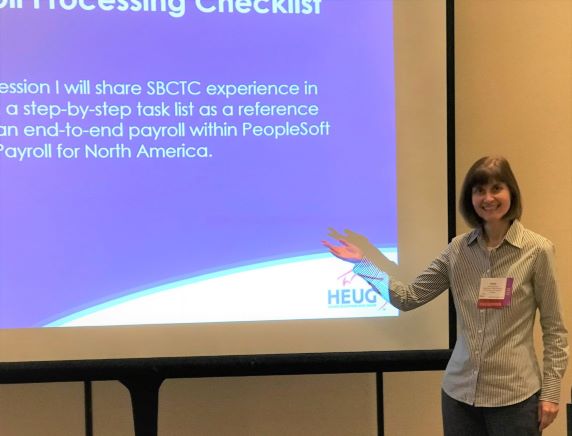 Subscribe to ctcLink CONNECT
Was this blog forwarded to you? Get your own copy. SIGN UP to receive notices when ctcLink Connect editions are posted.