History has its eyes on you
February 10, 2023 by Baydaa Alshatee
I write this blog post as I am returning from Washington, D.C., to Everett, Wash., with immense hope for the future of my community. I was granted the opportunity to attend the National Legislative Summit in Washington D.C. This summit is a chance for community and technical college representatives to gather and speak to their state's senators and representatives. This summit gave me an opportunity to explore the historic city and make an impact on my community as a whole.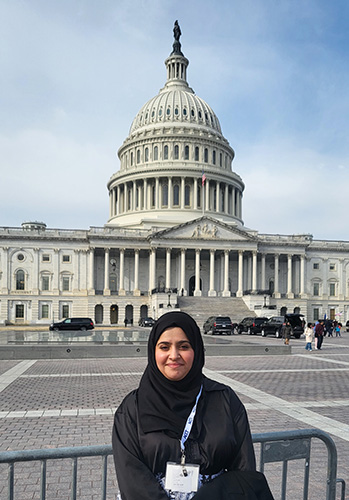 Dr. Victoria DeFrancesco Soto, dean of the Clinton School of Public Service at the University of Arkansas, was among the many prominent speakers during the summit. One of her quotes that stuck with me was: "make your voice heard, the representatives of your state work for us."
The main priorities supported by community and technical colleges are expanding college's access to the Pell Grant, the Farm Bill — which would help secure the pipeline of educated and trained workers for the 21st century agriculture and natural resources workforce — workforce development and adult basic education, the Dream Act, and basic needs support.
Getting to speak with Representatives Suzan DelBene and Rick Larsen was an honor. We discussed the community and technical college system's priorities along with the impact of immigration on BiPOC communities. We made our Washington state voices heard!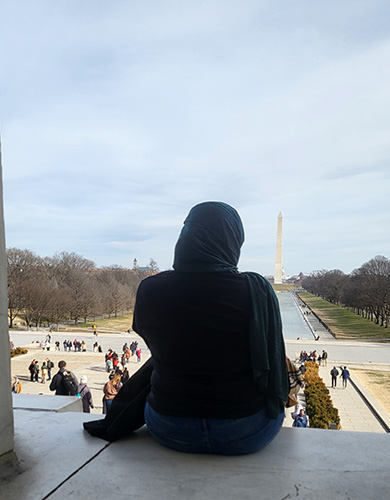 The historical importance of Washington D.C., to the USA had me reflecting on this nation and what it stands for. I come from Washington state, and my ethnicity is Middle Eastern. Intersectionality is at the core of who I am as a person.
I have a dream; dreams to make the sacrifices of those who came before me worth it, to make a difference and seek out education and job opportunities that my mother and grandmother before me did not get. I have dreams to become an advocate and a voice for my community. The history of this nation was built on immigration, and I am an immigrant. Sitting at the Lincoln Memorial looking out to the Washington Monument, I came to a conclusion that history does have its eyes on me. I am already accomplishing my dream and the dreams of the women who came before me.