Legislative intern first week whirlwind
January 13, 2023 by Jacob Katz
Hello Legislative News readers! My name is Jacob Katz, and I have the privilege of serving as one of three legislative interns with the State Board for Community and Technical Colleges for this 2023 legislative session. I attend Clover Park Technical College in Lakewood, Wash., where I am pursuing a degree in Human Services and serve as the chair for the Civic Engagement Committee for the Associated Student Government.
My first week with the State Board was an exciting whirlwind of introductions. Some of my first activities as an intern were to attend the Education Division retreat and All Staff meeting where I had the opportunity to meet division members from all over the State of Washington. Everyone was so welcoming, and I immediately knew that I am going to enjoy my time with the agency.
A group of us also took a field trip to the Capitol Campus, led by Legislative Director Arlen Harris. It was my first time to the capitol, and it was an amazing experience. Arlen and our tour guide provided us with the history of the buildings on the Capitol Campus and their construction, as well as specifics about the work that is done in those buildings. As both Arlen and our tour guide had worked in the capitol building in several different roles, they also shared some of their stories and anecdotes from their time there, which really personalized the experience. If you have not paid a visit to the Capitol Campus, I highly recommend it. The grounds are beautifully landscaped and are home to 18 monuments and art installations. The Legislative Building itself is breathtaking.
Monday, Jan. 9 marked the start of the 2023 legislative session. While watching the opening ceremonies, I felt truly honored to be able to participate in such an important institution. I was able to provide in-person testimony in support of HB 1156, which expands the eligibility period of the Washington College Grant from five years to six years, or from 125% to 150% of the expected time to complete a degree program. This expansion of eligibility will sync up the eligibility period of the Washington College Grant with the eligibility period of federal financial aid such as Pell Grants, making it much easier for students to plan their educational funding. It will also allow students who may experience hardships to take time out without having to worry about funding keeping them from completing their education.
While testifying in committee for the first time was a bit intimidating, Director of Student Services Lauren Hibbs, Legislative Director Arlen Harris, and Policy Associate Yokiko Hayashi-Saguil were there in person and over Zoom to support me during my testimony and make sure I had everything I needed to be ready beforehand. It was a neat opportunity be a part of the policy process as well as an advocate for my peers in the community and technical college system.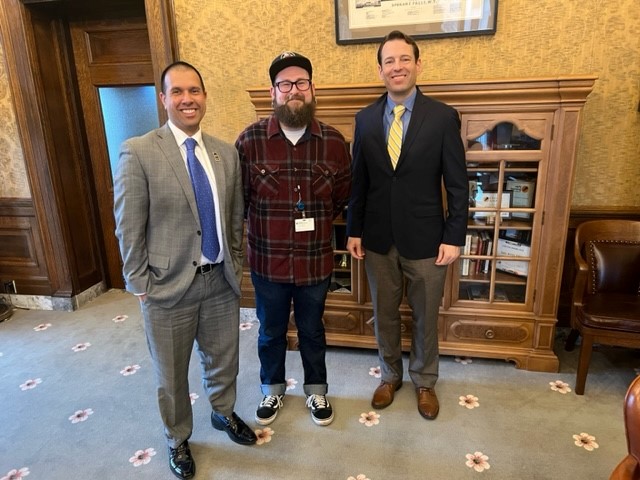 I was also lucky enough to be included in a meeting with Executive Director Paul Francis, Legislative Director Arlen Harris and Sen. Andrew Billig in the Senator's office. Sen. Billig took a few minutes to get to know me, ask about my goals as I get started in legislative work, and snap a picture for my scrapbook.
All in all, I could not have asked for a better experience starting my internship journey with the State Board. As I settle in more each day, I remain consistently amazed that I get to spend my time here learning from such knowledgeable group of people. The student experience is truly at the forefront of the work done here at the State Board. I look forward to providing updates on this work through the lens of a student in the system that this agency serves so thoughtfully.