Martin Valadez appointed to state community and technical college board
April 21, 2021 by SBCTC Communications
OLYMPIA, Wash. — Gov. Jay Inslee has appointed Martin Valadez of Pasco, Wash., as a member of the Washington State Board for Community and Technical Colleges.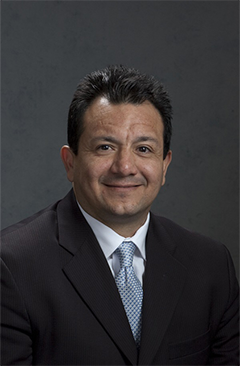 As a board member, Valadez continues his extensive service in higher education. He currently works as the Tri-Cities regional director of Heritage University, based in Toppenish, Wash. Prior to Heritage, Valadez worked in different roles for Columbia Basin College in Pasco, including as a professor of history and intercultural studies, vice president for diversity and outreach and chief executive officer of the CBC Foundation.
Valadez is also active in the Tri-Cities business community, serving as the interim executive director of the Tri-Cities Hispanic Chamber of Commerce, and as a board member for the Tri-Cities Economic Development Council (TRIDEC) and Gesa Credit Union.
"The opportunity to serve as a member of the Washington State Board for Community and Technical Colleges brings together my passions for education and service to community," Valadez said. "I'm looking forward to applying my experience and knowledge in history, intercultural studies, diversity, outreach, and business to advancing the causes of the community and technical college system and each of our colleges."
Valadez's past volunteer affiliations include Visit Tri-Cities, Communities in Schools of Benton-Franklin, United Way, American Red Cross, Mid-Columbia Symphony, LEAP (Latino/a Educational Achievement Project), CREHST Museum, The Children's Reading Foundation, Columbia Basin Badger Club and the Downtown Pasco Development Authority.
A graduate of UCLA and Stanford University, Valadez is a PhD candidate at Stanford. He has also earned certificates from the Mendoza School of Business at the University of Notre Dame, the Foster School of Business at the University of Washington and the Stanford Graduate School of Business.
The nine-member, governor-appointed Washington State Board for Community and Technical Colleges provides leadership, advocacy, and coordination for Washington's system of 34 public community and technical colleges. Each year, nearly 337,000 students train for the workforce, prepare to transfer to a university, gain basic math and English skills, or pursue continuing education.
Valadez succeeds Wayne Martin of Kennewick, Wash. Valadez's term on the State Board ends Sept. 30, 2023.