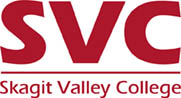 Since 1926, Skagit Valley College has earned distinction as a community leader by offering exceptional education, aligning programs with regional and state economic development strategies, and encouraging cultural enrichment.
Why Choose Skagit?
The annual
Champions of Diversity
program recognizes high school students for contributions to diversity in school and the community. Significant scholarship funds are awarded to outstanding seniors.
SVC's Parks Law Enforcement Academy
is one of only seven nationally accredited programs. Grads have accepted positions to protect some of America's most treasured parks including the Grand Canyon.
Popular Programs
Direct Transfer Agreement
​Nursing
Medical Assistant
Human Services
Early Childhood Education
Criminal Justice
See all programs of study at Skagit Valley College.
College Address
Skagit Valley College
2405 East College Way
Mount Vernon, WA 98273
1-844-2SKAGIT (toll free)