Cascadia College | Field Guide 2022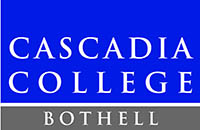 Cascadia College is the youngest of the state's 34 community and technical colleges, established to serve the northeast side of Lake Washington as a comprehensive community college that also offers Basic Education for Adults, ESL, professional-technical certificates and degrees, two Bachelor of Applied Science degrees, corporate and continuing education, and an English language program for international students. Every year, about 75% of students enrolled at Cascadia are intent upon pursuing four-year degrees.
Key Facts
Highest Enrolled Programs
Integrated Studies
Business
Science Transfer Track 2
Pre-Nursing
Biology
Enrollment
Headcount (all sources): 3,988
FTES (all sources): 2,238
Headcount (state-funded): 2,830
FTES (state-funded): 1,291
Students in Selected Programs
Applied bachelor's: 54
International: 207
Running Start: 949
Worker Retraining: 26
Student Profile
Type of Student
Academic/transfer: 76%
Basic skills: 7%
Other: 12%
Workforce education: 4%
Race/Ethnicity*
American Indian/Alaska Native: 2%
Asian: 26%
Black/African American: 5%
Hispanic/Latino: 14%
Pacific Islander: 2%
White: 67%
Attendance
Full-time: 48%
Part-time: 52%
Family and Finances
Students receiving need-based financial aid: 18%
Students with dependents: 28%
Points of Interest
Bold strides in diversity, equity and inclusion
Cascadia started the Cascadia Scholars Program to help BIPOC (Black, Indigenous, Persons of Color) students connect to the college and achieve their educational and career goals through mentoring, resources and support. Cascadia will also host two student of color conferences in 2022 for high schoolers. Themes include identity, collaboration, education, leadership and social justice. Students will learn about life on a college campus through tours and "sample" classes. For employees, the college created an online 10-module Equity and Inclusion Foundations course covering basic elements of equity and inclusion for the beginner and lays the foundation for further learning.
New courses in American Indian and Indigenous Studies
Cascadia College is one of two colleges partnering with University of Washington to offer new American Indian and Indigenous Studies (AIIS) courses that directly transfer into UW's AIIS degree program. Course offerings are AIIS 102: Introduction to American Indian and Indigenous Studies; AIIS 103: The Indigenous People of the Pacific Northwest (PNW); and a third course, currently unnamed. Through these courses, Cascadia will be centralizing the Indigenous experience within its own community culture, as well as collaborating with tribal groups to help meet their academic and workforce needs. Ethically, this work recognizes and celebrates the contemporary lives and historical local experiences of PNW Indigenous peoples.
Cascadia College to become a Citizen Leadership Center
Cascadia is partnering with the Citizens' Campaign, a national organization that seeks to educate all Americans to fulfill their political power, to become a Citizen Leadership Center. Through this partnership, Cascadia will help develop more civically engaged citizens and work with the community to build relationships and solve problems. Students will learn the No-Blame Problem Solving method to put forward proposals to remediate and rehabilitate a run-down gas station, build a sidewalk on a busy road in Snohomish County between two schools, and address homelessness in Seattle to current and former elected officials from the cities of Woodinville, Seattle and Snohomish County.
Data is from the 2020-21 academic year. Reflects headcount unless otherwise noted.

*May not add up to 100% because students may be counted in more than one race. Percentages calculated on reported value.
President
Dr. Eric Murray
Trustees
Mike Kelly, chair
Dr. Colleen Ponto, vice chair
Janet McDaniel
Dr. Meghan Quint
Norman Seabrooks
Service Area
Snohomish County, northwest King County
Legislative Districts
1, 5, 21, 41, 45, 46, 48