Senate recognizes VanAusdle, budget negotiations continue
March 04, 2016 by SBCTC Communications
House and Senate members spent much of their week on the floor, debating and voting on bills before today's opposite chamber cutoff deadline. Bills that originated in the opposite chamber must be voted out of the opposing chamber by 5 p.m. Fiscal committees also continued their work, hearing and voting on bills related to the budget, as writers continued negotiations on the supplemental capital and operating budgets.
Walla Walla's president Dr. Steven VanAusdle recognized by Senate
Members of the Senate took time Tuesday morning to honor Walla Walla Community College's President Dr. Steven VanAusdle. VanAusdle is retiring this summer after more than 45 years at the college, 31 of which were spent at its helm.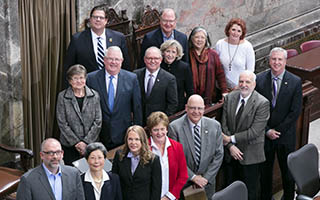 Sen. Mike Hewitt, who represents Walla Walla and one of the sponsors of the resolution recognizing VanAusdle, thanked the president for his service to the community.
"Dr. VanAusdle has been a huge influence in our community, our state and the nation," he said. "What I really like about Dr. VanAusdle, other than he's a friend, is he really understands that economic development is done through education, and I think many of us on this floor today understand the way to get ahead is with education."
Hewitt highlighted the college's wind energy technology program, its Water and Environmental Center and the enology and viticulture all contributed as ways in which Walla Walla Community College, under VanAusdle's leadership, has contributed to regional and state growth.
Sen. Brian Dansel, a Walla Walla Community College graduate, spoke of his experience at the college, what it meant to him and to the region.
"It's remarkable what they've been able to do there," he said.
Also speaking in favor was Sen. Steve Conway, who recalled President Barak Obama recognizing VanAusdle as a Champion of Change in 2011 for establishing a culture of innovation and entrepreneurialism.
"That's a national recognition that very few probably ever get in our state, and I think we should acknowledge that. Our community and technical colleges are powerful instruments of economic change in our community, too," Conway said.
Finally, Sen. Maralyn Chase spoke about VanAusdle's service on the National Competitiveness Council and his work with the enology and viticulture center.
"I think Walla Walla has done just an amazing job of developing the local economy, of building on the strengths of the local economy, and it's because of Steve VanAusdle," she said.
VanAusdle was joined by his wife Rozanne, State Board members Elizabeth Chen and Larry Brown, South Puget Sound Community College President Tim Stokes, Bates Technical College President Ron Langrell and his wife Vicki, State Board Executive Director Marty Brown, former State Board Executive Director Earl Hale, Deputy Executive Director Jan Yoshiwara, Legislative Director Arlen Harris, ACT Director Kim Tanaka, WELA Director Cindy Hough and Cory Hewitt.
Senate confirms 7 trustees
The Senate this week confirmed seven trustees as of 1:30 p.m. Friday:
Harriette Bryant, Olympic College, on March 1
June Darling, Wenatchee Valley College, on March 2
Denise Portmann, Grays Harbor College, on March 2
Anne Fennessy, State Board for Community and Technical Colleges, on March 3
Anna Franz, Big Bend Community College, on March 3
Charles (Stephen) McFadden, Big Bend Community College, on March 3
Elizabeth Dunbar, Tacoma Community College, on March 3
Coming up next week
With sine die (adjournment) scheduled for Thursday, members of the Legislature have less than a week to finish their work. Over the next six days, representatives and senators will be working to finalize the supplemental operating and capital budgets, and come to agreement on bills that have passed both chambers but contain differences.