House continues budget process as college system celebrates 50 years
April 07, 2017 by SBCTC Communications
The community and technical college system celebrated 50 years this week as the House and Senate continued hearing bills with a fiscal impact ahead of next week's fiscal committee cutoff. House committees heard a tax-related bill instrumental to its operating budget proposal and the chamber's capital budget proposal.
House capital budget moves out of committee
April 6 — The House version of the capital budget was up for a hearing Thursday, unanimously voting it out of the Capital Budget Committee Friday morning. Joyce Loveday, president of Clover Park Technical College, Bob Knight, president of Clark College, and Warren Brown, president of North Seattle College, testified on behalf of the college system. The three colleges have projects included on the system's capital budget request list, but only the Clover Park and Clark projects were funded in the House capital budget.
Clover Park received funding for construction of its Center for Advanced Manufacturing in the budget proposal. The college got funding in the 2015-17 biennium for the design phase of the project. Loveday thanked representatives for fully funding projects on the system's capital project list, including the advanced manufacturing building.
"This project will replace a building that was built in the 1940s as a naval supply warehouse. It's in exceedingly poor condition and not suitable for instructional use," Loveday said. "I ask that you support our system's entire capital request, including the construction phase for the Center for Advanced Manufacturing."
Knight testified next, thanking representatives for including a Ridgefield campus for Clark College, and encouraging them to fully fund the remainder of the request — an additional $15.3 million. The Clark proposal was not funded in the Senate version of the capital budget. Calling the campus essential to north Clark County, Knight told representatives the college raised $10 million to purchase 70 acres for the future campus.
"We're not just asking for money from you. We're doing our own part," he said. "And then we'll build an advanced manufacturing facility for that region sorely needed for our workforce."
Ron Onslow, the mayor of Ridgefield, also spoke in favor of the Clark campus in his city.
Testifying last was Brown, who asked committee members to fully fund the system's capital projects list. North Seattle College's library renovation project was not included in either the House or Senate budget. Brown brought pictures of the 50-year-old building, showing them to committee members as part of his testimony.
"You can see we have rotted supply lines, seismic issues with unreinforced concrete, and no fire suppression system in this building," he said. "So failure to fund the entire list means cutting off access to our students. It also means the state fails to provide basic safety and educational infrastructures for our community college students."
House advances tax bill to support operating budget proposal
April 3 — The House Finance Committee advanced a tax bill this week, holding a three-and-a-half hour hearing Monday and voting it out of committee along a party-line vote Tuesday. The measure is part of its chamber's operating budget bill. Testifying on behalf of the community and technical college system were Amy Morrison Goings, president of Lake Washington Institute of Technology and chair of the Washington Association of Community and Technical Colleges (WACTC) legislative and public information committee, and Gary Oertli, president of South Seattle College and president of WACTC.
Goings reiterated WACTC's support for dedicated funding from capital gains taxes to support public higher education.
"Currently, as you know, in this state, community and technical college funding is at 2007 levels per FTE. This funding level is inadequate and unsustainable," she said. "While HB 1926 did not survive the legislative process, we realize that in order to make a step forward toward funding our colleges and serving student needs and industry needs better, we need to support this legislation in order to see the House operating budget funded."
Goings emphasized the college system's support for the House version of the operating budget and the tax measure.
"We do support this legislation, and we appreciate your strong support of the community and technical colleges in the House operating budget."
Oertli, testifying next, reiterated Goings' support for the budget.
"We need to make sure that the citizens of this state are getting the great jobs that are available now and the projections of jobs in the future," he said. "Be it a high school graduate or a 34 year old person, we need to make sure they get the training — either a professional-technical degree or an apprenticeship program or transfer and be successful at a four-year institution — we need to get back at least to the levels of 2007, and we need your support in moving this forward."
College system celebrates 50 years
April 3 — The community and technical college system celebrated its 50 birthday Monday with Gov. Jay Inslee declaring April 3 "Community and Technical College Day." At a reception hosted by Marty Brown, the State Board's executive director, Inslee was joined by former Gov. Dan Evans. Evans signed the Community College Act on April 3, 1967 which created the independent, unified college system.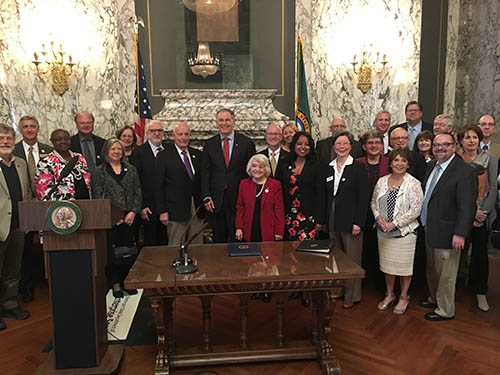 Evans described the politics at the time and the controversy around creating a community college system. Prior to 1967, community colleges were part of their local K-12 school districts, but a 1965 study commissioned by the Legislature recommended a new independent community college system. The debate was led by four groups: the superintendent of public instruction wanted colleges to remain part of the local school districts; the chairman of the Joint Interim Committee on Education agreed with the report, but wanted control to lie with the State Board of Education; labor union leaders wanted the state's vocational-technical colleges to remain separate from any system; and the temporary Advisory Council on Public Education recommended a college system separated from the K-12 school districts.
Once the new system was created, Evans was tasked with appointing over a hundred college trustees.
"My staff worked hard to identify outstanding citizen leaders who were recommended by legislators in each district for these positions for the success of the new and controversial — and let me add it was controversial at the time — system. It would depend on early decisions by these policymakers," he said. "And what great decisions over the years. These citizen policymakers, coupled with enormous leadership from the individual colleges and the State Community College Board created the now 34 community colleges with almost 400,000 students."
The Legislature amended the Community College Act in 1991 bringing the state's five technical colleges into the system. The community and technical college system now comprises 34 colleges, up from the original 22, serving nearly 381,000 students, almost 10 times the number served 50 years ago.
"Governor it's an honor to be with you in any context but particularly celebrating what is one of the most magnificent acts of leadership of any leader in a governor's post that I am aware of," Inslee said, addressing Evans. "The vision statement that Governor Evans brought forth, now with the hundreds of thousands of people that I get the enjoyment of meeting who've seen their lives changed with one of the most flexible, efficient, user-friendly, always-there institutions in state history, which is our community and technical colleges."
The first college to open its doors was in Everett, which began in 1915 with 42 students. It closed in 1923 for lack of students. Two years later, Centralia College opened and is now the oldest continuously operating community college in the state.
System bills
The following bills were requested by the community and technical college system.
Bill number
Bill title
Bill status
SHB 1130/ SB 5381
Making the customized training program permanent
Passed Senate April 6 on a 48-1 vote
EHB 1913/ SB 5677
Creating a leasehold excise tax exemption for certain leasehold interests in facilities owned or used by schools, colleges, or universities

EHB 1913 passed Senate Higher Education Committee March 28
Referred to Senate Ways and Means March 29

SSB 5069/ SHB 1129
Providing associate degree education to enhance education opportunities and public safety

SSB 5069 passed House Appropriations and referred to Rules Committee April 4
SHB 1129 passed Senate Law and Justice Committee March 23
SHB 1129 placed on second reading by Senate Rules Committee April 5
Non-system bills
The following bill is still alive following the March 29 policy committee cutoff.
| Bill number | Bill title | Bill status |
| --- | --- | --- |
| E2SHB 1375 | Providing students at community and technical colleges with the costs of required course materials | Passed Senate April 6 on a 49-0 vote |
Coming up next week
The Legislature reaches its second floor cutoff Wednesday when bills from the opposite chamber must be passed by the entire chamber in order to continue in the legislative process. The remaining 11 days in the session will be used to resolve any differences between bills that have passed both houses and to continue budget negotiations.