Our time is now
February 11, 2022 by Melissa Littleton
As I fly home from representing our 278,000 community and technical college students at the National Legislative Conference in Washington DC, I'm overcome with joy as I process my time there. "The sky is the limit" is a common phrase in my household, and as I look down at the clouds at 30,000 feet, for the first time, I wholeheartedly believe it. Tears of joy and gratitude are streaming down my cheeks as I write this knowing I will never be the same. As I sat 20 feet from first lady Jill Biden at the Association of Community College Trustees' National Legislative Summit cheering as she declared "our time is now!" I felt my ancestors proudly looking down. What a way to honor all who fought for my freedoms by advocating for an equal chance at life for so many Americans.
Earlier today I visited the Martin Luther King Jr. Memorial, and I reflected on my experience. The park ranger told me the monument was made of 200 pieces of rock. Hindsight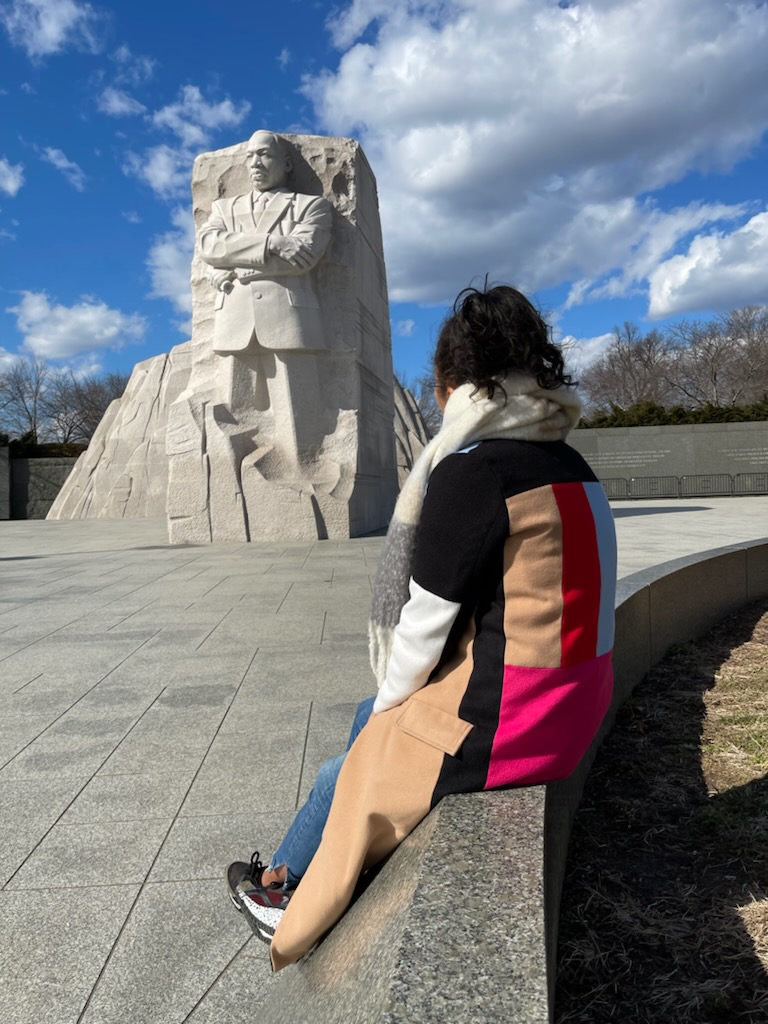 is 20-20, and as I reflected on every battle, struggle, sacrifice, and pivot, it was clear to me every part of my story was needed for my purpose. As I placed my hand on the monument the sun came from behind the clouds, shined brightly on my face, and I knew I was here for such a time as this. My experiences molded me, just as the statue was molded. A person isn't born great, they become great.
"I have the audacity to believe that peoples everywhere can have three meals a day for their bodies, education, culture for their minds, and dignity, equality, and freedom for their spirits" Martin Luther King Jr., Norway, 1964.
We are continuing this great work for our students, and I couldn't be prouder to partner with you all. Together — the trustees, college presidents, and students — we spoke with members of Congress and senators. I echoed the importance of focusing on outcomes. Investing in community college is investing in our future. Investing in students is investing in the betterment of America. We highlighted the need for increased Pell Grants, short-term Pell Grants, additional funding in workforce, and basic needs.
On behalf of Tacoma Community College student government, I'd like to express our sincerest thank you to the college trustees and presidents for supporting students' interests. Your investment into our futures does not go unnoticed. Thank you. Kim Tanaka, thank you bringing us together. It is clear where your heart lies, and we appreciate you.
Life's success isn't making millions of dollars. Life's success is doing meaningful work that makes a difference in the lives of others. Attending the NLS conference gave me the opportunity to reach that success for community college students across the nation. Wow, what a feeling to not only be heard but for the mission to be bigger than you. Advocating for others is the most fulfilling work I have ever done.
Tacoma Community College changed the trajectory of my life. When I started school four years ago, I was insecure. I wasn't sure how I was going to balance this responsibility with the others in my life. It had been about 11 years since the last time I was in school, and I wasn't sure if I would do well. I walked in the door my first day timid, and now, four years later, I'm preparing to walk out confident. I can't wait to walk across the graduation stage knowing my four children are watching and that this experience has not only changed my life but will enrich theirs. It took a village, and my family, friends, and the TCC community have made this possible for me.
This trip showed me the only person limiting me was me. I am limitless, and my voice deserves to be heard. To all my fellow students: know you are important, valued, and have meaningful skills and abilities to offer our communities. You deserve to be heard. We all deserve to be heard. Value isn't measured in stuff; your character is what sets you apart. Thank you to all who have poured into me, allowed me to grow, and believed in my ability to lead. TCC, the work you all — professors, resource specialists, deans, directors, and presidents — do is changing people's lives every day. The environment you created allows students the ability to dream without bounds, and I will never forget your contributions to my life.
Thank you, State Board for all the work you do that's unseen. I know you don't often get to see the students that you represent, so on behalf of all the community and technical college students in Washington, I want to express my deepest thanks. Your work is impactful to so many like me. A special thanks to you all for believing in my potential and providing me this life-changing internship. I do not take it lightly, and I'm so honored to learn from this group.
To all the professors, deans, directors, presidents, trustees, State Board members, your dedication and focus on the future leaders of tomorrow is so important. I promise I will never forget this moment. I will never forget to lift up others as I climb.
Forget the sky, let's explore what we can do in space, together! Our time is now!