Race you to the last cutoff
March 02, 2018 by Daniela Suarez
Legislation often beings with a story, an idea, a person. When those ideas receive a bill number and in turn get a public hearing and then pass their chamber of origin, that's when we see the beauty of the legislative process. With the session winding down, it also places emphasis on future of legislation that hasn't received consensus yet. Over the last two weeks, it's felt like the session has been racing to finish line, but that has not stopped the drive legislators have to address issues and get policy to the finish line.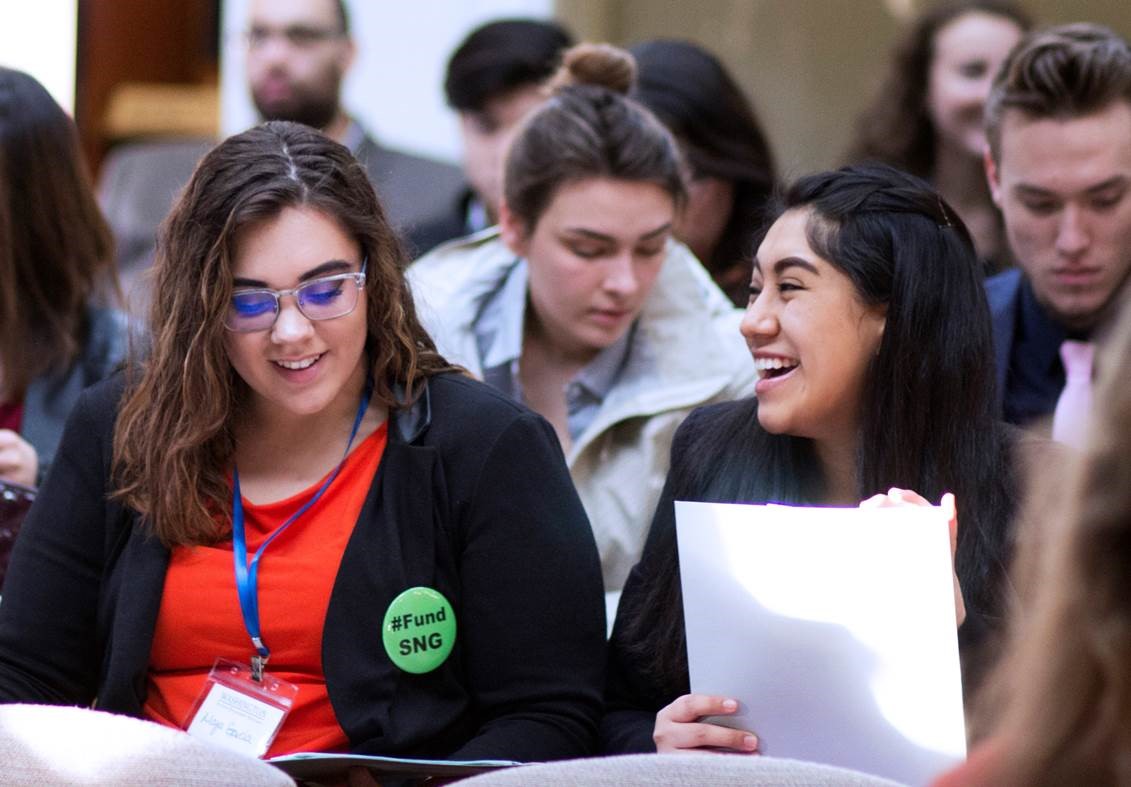 Running Start has been a hot topic ever since budget bill, SB 6362, passed the Senate. It changes the amount of money the community and technical colleges receive for educating K-12 juniors and seniors. Freezing money deeply concerns me because I, too, was a Running Start student that reaped the benefits of this amazing program. As a Running Start student, my senior year I had access to all the services a regular student going to community college had; it felt like I was really welcomed to my local community college. Interning for the State Board and being regularly involved at my local community college, I see the inner workings system leadership puts into ensuring all community college students have a quality education and feel supported. It would hurt for me to see colleges across Washington having to take dramatic hit in funding and potentially reduce services and classes with the Senate outlined budget.
I've been closely following and advocating for over the State Need Grant throughout the session, a program that is very near and dear to my heart. The continuous conversation around fully funding the State Need Grant became particularly robust this session, which came as a surprise to me given this year is a short session. The House Budget, which came out last Tuesday, proposed a $25 million plan to fully fund the State Need Grant in the next biennium. As an SPSCC student, I know 773 SPSCC students were eligible for the SNG last year but didn't receive it. This budget is a great indicator that Legislature is planning to take a serious approach to fully funding the State Need Grant.
Sen. Ranker, along with other legislators, decided to take a strong approach in bridging the gap of access to college for all students. Senator Ranker authored SB 6593, a bill relating to higher education, which addresses the lack of consistency in funding for the State Need Grant. This bill would make the State Need Grant an entitlement, and would phase in full funding by 2023. Ranker's bill is now on Rules Second Reading in the Senate. The budget has not yet been approved, so for now it's a waiting game to see how the State Need Grant will be addressed this session.
With all the advocacy days and students visits, I'm confident legislators know where students stand on supporting higher education. In the past 24 hours, the Legislature's support for higher ed was made clear as they passed three bills related to the WACTCSA legislative agenda.
HB 1488, the Dream Act passed the Senate floor with a final vote 34-15 vote, supported by members from both sides of the aisle. This bill will give access to the Opportunity Scholarship and College Bound to U and T visas students, as well as DACA recipients.
HB 1298 a bill that would prohibit employers asking about previous arrests or convictions until the applicant is determine qualified, 1298 passed the Senate Chamber with a final 33-16 vote.
SB 6582 a bill that addresses applications of higher education, this bill will prohibit public higher Ed institutions asking about previous arrests or convictions until the applicants is determined qualified. Many community college students along with myself plan to transfer to a 4 year university. However the same standard that the community colleges have set is not regulated among the 4 year institutions in Washington. This bill would ensure students in the community college system would have a fair chance and overall access to higher education by keeping the same standard. This bill passed the House Chamber with a final 62-36 vote.
Those bills are now on their way to the governor's desk.
On day 54 of this year's exciting 60-day session that I've adored being a part of, I'm taking comfort in the fact that there is a light at the end of the tunnel and a couple governor signature pens that I'm looking forward taking as a memento of this year's session.