Exploring the complexity of federal and state advocacy
February 15, 2019 by Kristina Pogosian
I fell in love with my high school campus through participating in athletics and leadership activities, so I left my family and friends baffled by enrolling in the Running Start program at Tacoma Community College. I began questioning the decision, especially as I faced the unfamiliar student body and heavy course load that stood beyond the comfort zone my high school sat in. I pushed myself to join TCC's student government despite difficulty adjusting to the new environment, discovering a community that has helped me grow as an individual. Positive changes arise when we overcome difficulties, which is why we continue to advocate for legislation that will change student lives, regardless of how difficult the path may seem.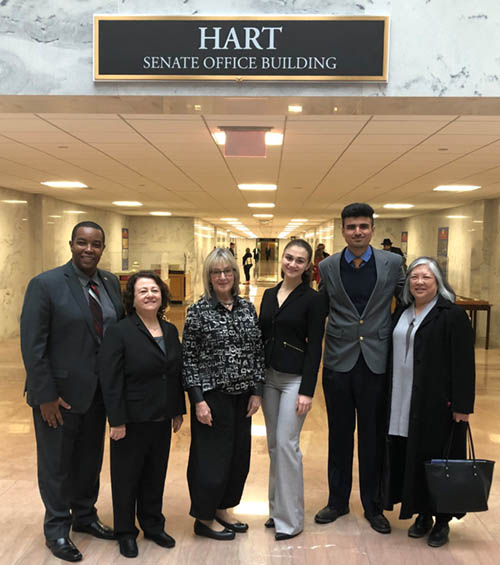 To advocate for students on a federal level, I joined community and technical college administrators and trustees for the National Legislative Summit in Washington, DC. During conference sessions, student representatives across the nation discussed how the Association of Community College Trustees could better mobilize students in federal-level advocacy. Along with this, each state met with their elected officials to push for this year's legislative agenda:
Strengthen Pell Grants by funding students in short-term programs and allowing the formerly incarcerated to qualify for aid
Reinvest in the United States education system by increasing funding for under-resourced institutions and funding the Perkins Career and Technical Education (CTE) programs to support workforce training
Reauthorize the Higher Education Act to oppose new risk sharing penalties and implement a unit record data system for the nation's community and technical colleges.
Pass the Dream Act to provide a citizenship path for undocumented students, including those enrolled in the Deferred Action for Childhood Arrivals (DACA) program.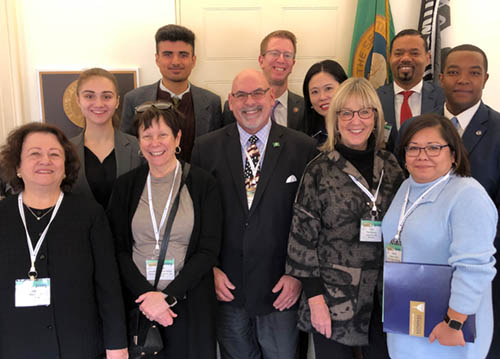 I joined Washington's leaders to discuss all these issues with Rep. Kim Schrier, Rep. Derek Kilmer, Sen. Patty Murray, and Sen. Maria Cantwell's staff. Student representatives Vaibhav Nandha, Angela Durham, Joedy Morrow and I shared our stories relating to these issues. These included expressing difficulties nontraditional students face in adjusting to a student lifestyle, the struggles of first generation college students in understanding the American education system, and the anxiety undocumented students endure over limited opportunities for success.
While I was advocating for students in Washington, DC, my co-intern Mustapha Samateh was doing the same in Washington state's Legislature. On Feb. 14, he testified for SB 5393 to fund the Washington's College Promise before the Senate Ways and Means Committee, who are considering the operating budget relating to legislation. This legislation will provide the extra support many students need to successfully complete their degree and it is an honor to encourage the legislature to pass them.
Whether we are advocating on the federal or state level, both are effective ways of encouraging student support. Regardless of the difficulties that arise in the process, such as strong opposition by federal representatives against items on our legislative agenda, student voices will rise. Through the power of student voice, we will push to implement the positive changes in student lives.