Finding my voice in the legislative process
March 29, 2019 by Kristina Pogosian
From a student's perspective, legislative advocacy can seem like an activity reserved for prestigious people with suits and ties. By believing this, finding belonging in the legislative process seemed unreachable for me. Through working with the State Board for Community and Technical Colleges (SBCTC) this legislative session, I discovered purpose behind projecting my voice to the Legislature, motivating me to encourage Washington students to do the same.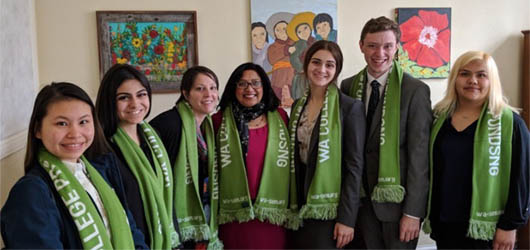 Not only are students intimidated by apparent elitism, but also by unfamiliarity of the legislative process. To combat this, Guillermo Rogel Jr., the executive director of the Washington Student Engagement Network, Mustapha Samateh, my co-intern, and I prepared students to participate in Washington Student Engagement Network's Advocacy Day. We provided guidance to students on how to partake in effective meetings with elected officials, as well as background information about the Washington State Need Grant.
Over 100 students from Washington high schools, community and technical colleges, and four-year universities participated in educating legislators about the Washington State Need Grant, which 18,000 eligible students are currently not receiving due to lack of funding. Together, we shared stories of how receiving, or not receiving, the financial aid impacted our lives.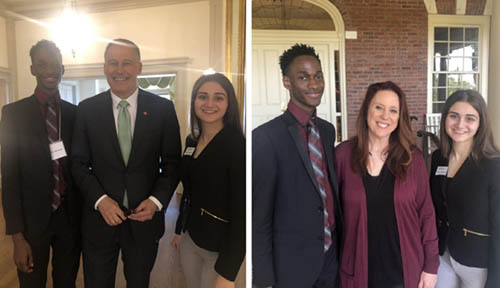 Along with directly interacting with the Legislature, another area in need of student engagement is voting. To address this, Governor Jay Inslee and Secretary of State Wyman collaborated to launch a voter registration competition last fall between student governments in Washington's colleges. Because Mustapha and I participated in this effort on our campuses, we joined the governor and secretary of state for lunch in the Governor's Mansion. Together, we discussed the importance of accessible voting initiatives and student-lead civic engagement.
Unfortunately, disenfranchisement of minority groups is a reality of US history, along with many other forms of discrimination and inequality. To recognize this, the SBCTC's Diversity, Equity and Inclusion team hosts regular conversations regarding how these injustices impact us to this day. This week, we discussed intersectionality, which is the state of holding many social identities, both privileged and oppressed. Mustapha and I joined SBCTC staff members in discussing treatment based on identity.
To address these prevalent inequities, Mustapha and I continue monitoring the legislative agenda of the Washington Community and Technical College Student Association:
Though my time interning at SBCTC is over, the memories and lessons I learned will remain forever in my heart. SBCTC provided me with a platform to express my voice and to enable Washington students to do the same. This experience inspired me to continue advocating, engaging and reminding all students that our voice belongs in the Legislature.