Legislative interns on the hill for the first week of session
January 18, 2019 by Kristina Pogosian
Energy is high on Capitol Hill and people are many, all coming from diverse backgrounds and for various purposes. Despite differences in political views, they share an understanding of utilizing their voice and advocating for what matters to them. Welcome to the beginning of Washington's 2019 Legislative Session.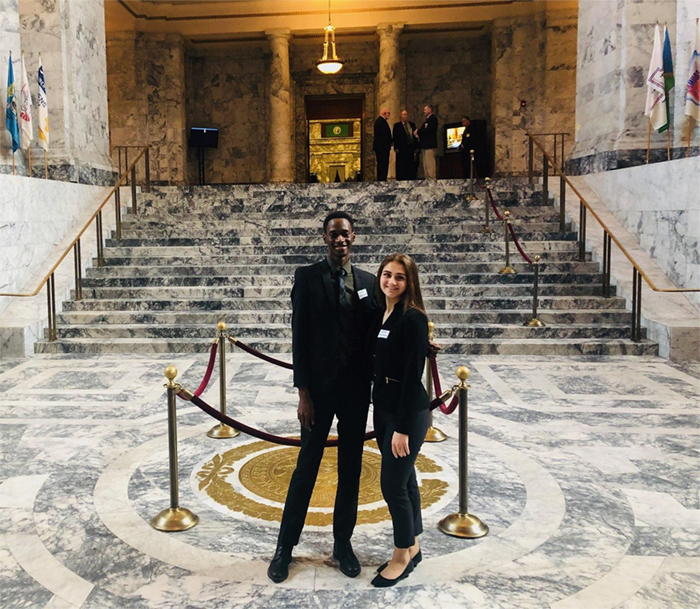 The first week has passed, and I have the privilege of representing 370,000 community and technical college students as one of the legislative interns for the SBCTC. Mustapha Samateh, SBCTC's second intern, and I directly visited every legislator's office to drop of the Community and Technical College 2019 Field Guide, a packet with relevant information regarding the community and technical college system. Through Washington's Community and Technical College Student Association (WACTCSA), students across the community and technical college network will also be visiting elected officials' offices on Jan. 24. With a focus on promoting diversity, equity and inclusion, students will encourage legislators to support the issues on their legislative agenda:
promoting Open Educational Resources
reintegrating formerly incarcerated students
implementing food pantries on campus
fully funding the Washington State Need Grant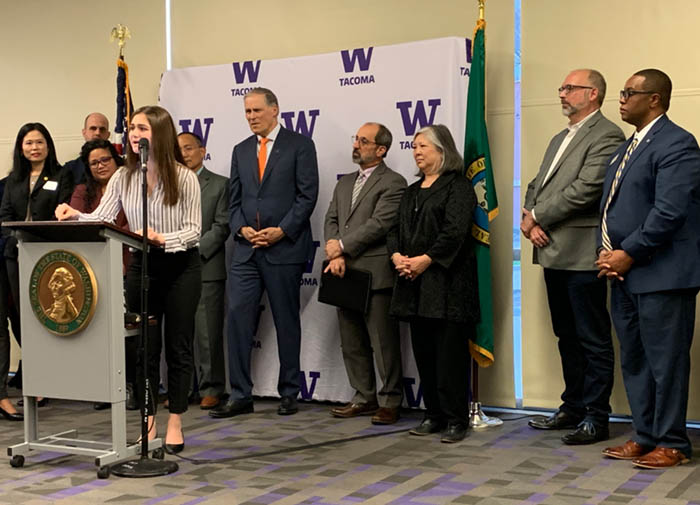 At the College Promise Roll Out Event hosted by Tacoma's University of Washington, Governor Inslee spoke about his proposal to fully fund the Washington State Need Grant. This will help create a new life for 23,000 eligible students who didn't receive aid last year due to lack of funding. As a representative of Washington's community and technical colleges, I spoke about my connection with this issue. Without the State Need Grant, my mother would not have been able to pursue an academic journey at Bellevue College, where she learned English and completed her associate degree while working a job and taking care of two kids. With the job that she now has as a result of holding a degree, my mother has been able to support my sisters and me. Through watching her lead by example, I am now not only continuing my education, but also engaging with the community I am a part of.
Along with Inslee and WACTCSA, expanding opportunities for students is immensely supported by the SBCTC. That's why the SBCTC is supporting two new Senate bills this session:
SB 5014: If passed, students will no longer be required to pay fines or fees to their school district if the obligation prevents a college from receiving their transcript.
SB: 5113: If passed, students over the age of 16 who do not already have a high school diploma will be awarded a high school diploma after completing an associate degree from a community or technical college.
These issues were discussed at the SBCTC's weekly Legislative Strategy meeting, led by Arlen Harris, SBCTC's legislative director. Through the hard work of SBCTC's policy associates, state-level movement is occurring to advocate for student success.
As for the legislators, both new and returning elected officials are preparing for this year's session. The first House Committee for Education and Workforce consisted of an overview of Washington's higher education system, providing a platform for future decision making. As for myself, the beautiful reality of living in a democracy has finally been fathomed, as I observe the movement on Capitol Hill. It is honor to represent the community and technical college students as we use our voice to advocate for what matters to us.