New prospects, exciting events, promise and productivity
February 08, 2019 by Mustapha Samateh
Every week the internship experience gets better because there are new prospects and exciting events I get to witness. I cherish and appreciate the moments at House College and Workforce Development Committee hearings. I appreciate them for the fact that I get to start off the day strong with hearing bills that are going to affect the future of my education and that of my fellow students. And I love that I get to be present at them and occasionally testify. My day starts off full of promise of productivity.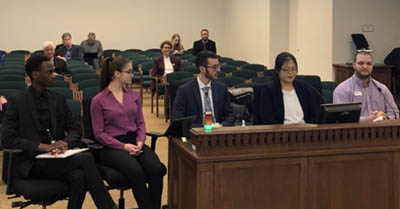 On Tuesday, I was joined by my co-intern, Kristina, Mason Green, WACTCSA regional representative from Whatcom Community College, and Boyoung Chae, who is the policy associate for educational technology and open education for the State Board, to testify on HB 1702, which addresses the WACTCSA agenda on Textbook Affordability and Open Educational Resources. It was nice to have a fellow student on the hill on Tuesday. A message is stronger when you have multiple voices.
HB 1702 mandates all 34 community and technical colleges on the ctcLink system to specify which classes offer "low-cost" course material. "Low-cost" being defined as under $50, according to a 2017-19 statewide student-led survey that had over 10,000 participants. If this bill passes, students will have the flexibility of assessing and reviewing textbook prices or open educational resources prior to class registration. Textbooks and course materials costs are hidden college expenses. For past academic quarters, I have been relying on library copies, which are in limited numbers for me or anyone to borrow for an average week to do school work or any other academic projects.
Talk about drive! The House College and Workforce Development Committee voted HB 1340 (Washington College Promise) out of committee, and now it has been forwarded to the House Appropriations Committee for the next legislative step.
HB 1893, which relates to the WACTCSA agenda dropped 4, addresses areas of food insecurity around community and technical colleges, and measure which can be implemented to overcome food insecurity in colleges. This bill is for a hearing at the House College and Workforce Development Committee on Feb. 13. Kristina and I will be tracking this bill and will give updates accordingly in the upcoming weeks.
Another unique opportunity that my co-intern and I had was to be able to meet with the State Board's members and share our student stories and some of the work we're currently taking on with our internship. The level of energy, enthusiasm and support in the room was marvelous. It made us love what we do more and reminded us of how we can inspire to do more to be engaged with programs and that our colleges and the State Board offers. We saw the commitment of board members and the rest of the State Board's team who are passionate in serving and supporting students to excel and be successful in their academic journey.
Another push for more investment in higher education comes on Sunday, Feb. 10 and Monday, Feb. 11 with the Washington Student Engagement Network (WA-SEN). WA-SEN is an unified network comprised of students from independent colleges, public institutions, and community and technical colleges from all over Washington who come together to share their stories with legislators. WA-SEN is currently highlighting the State Need Grant (SNG) / Washington College Promise and how vital that financial aid is to students. Currently there are 21,000 students that were eligible in the last year for the SNG and did not receive funding because it's not fully funded. Networks comprised of students like WA-SEN and WACTCSA are vital to educating our elected officials what matters to students and has proven to show progress for student issues like HB 1340 (Washington College Promise).