2020 legislative interns learning the ropes on Capitol Hill
January 17, 2020 by Matthew Rounsley
The first week of the Washington legislative session has begun, with only a quick 60 days for legislators to pass bills, supplemental budgets, and address key issues facing Washington. Throughout the week, I shared the community and technical colleges' Field Guide showcasing each college in Washington, their demographics, programs offered, and legislative districts in which they reside.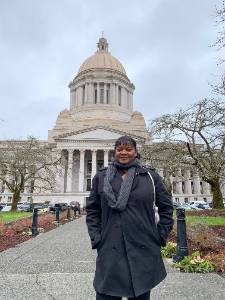 This year's legislative interns, Matthew Rounsley (myself) and Deanna George, will be active on Capitol Hill representing the more than 360,000 students enrolled in the college system. I am a second-year student at Centralia College and completing my Associates of Arts with the intention of transferring in the fall to complete a bachelor's degree in political science. I am active with Phi Theta Kappa at Centralia and serve as president of the Greater Northwest Region.
Deanna George is a second-year student at Tacoma Community College where she is completing a degree in Paralegal Studies. Deanna is a mom, veteran of the US Army and National Guard, member of the Phi Theta Kappa Honor Society, and volunteer with the League of Women Voters, the Washington State Paralegal Association and the National Association of Paralegal Associations.
Both of us want to become more educated and involved in the legislative process and gain skills to follow us to our future careers. Each week one of us will create a blog post to share how our week has been and all the awesome things it contained.
This week started quickly as Deanna and I visited every legislator's office delivering the Field Guide and discussing the amazing investment made to higher education during the 2019 legislative session through HB 2158. This law fully funds and expands eligibility of the Washington College Grant, formerly the State Need Grant. We also got to listen to the State of the State address, delivered by Gov. Jay Inslee on Tuesday, where he took time to thank legislators for making the higher education investment.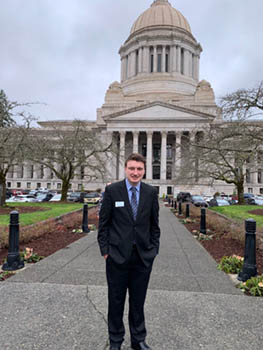 This year we and the State Board are closely watching HB 1164. The Superintendent of Public Instruction's office conducted a study recommending, in part, that colleges should pay for Running Start students' fees and books. We're concerned about proposed legislation on this topic because of the additional costs incurred by the colleges and possible equity in access issues. SBCTC estimates that if this bill becomes law, it will cost the colleges $15 million to $17 million annually.
I am excited to continue attending committee hearings and following bills that will be heard in the House College and Workforce Development Committee and the Senate Higher Education and Workforce Development Committee. I am very excited to work closely with HB 1715 and HB 1702 which will continue to make college more accessible to all students and promote equity within the college system. We hope to provide testimony on these and other bills, especially since we see great value in them.
Washington has paved the way to be one of the most accessible and equitable college systems in the United States, and it's very evident that our legislators care about our students within the system. As the session continues, there seems to be a great commitment to listen to all sides of issues facing the colleges, and legislators want to continue providing Washington students the best opportunities to access and pursue higher education.