Student representatives using their voices to make a difference
January 24, 2020 by Deanna George
Barely a week old, this legislative session is proving to be an exciting one, especially for SBCTC as bills like HB 1702, which would specify classes offering low-cost course material when students register for classes have been resurrected, and new ones like SB 6492, which addresses workforce education investment funding, have been introduced. HB 1702 passed the House and has been introduced in the Senate. As this legislative session begins to take shape, the activities that drive our government — attending public hearings, analyzing bills, and meeting with legislators occur nonstop and legislative interns, Matthew Rounsley and Deanna George (myself) are keeping up the pace.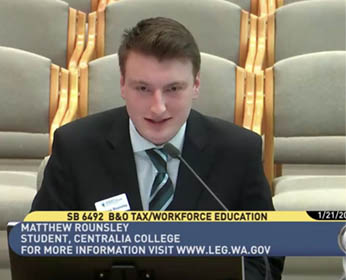 This week, Matthew testified before the Senate Ways and Means Committee in support of SB 6492, a bill which would protect funding for Washington's historic investment in financial aid for students last year. Matthew's testimony highlighted that he, like many other first-generation college students, would not be able to pursue a college education without financial assistance and urged the committee on behalf of the more than 360,000 community and technical college students to support SB 6492. In continued support for community and technical college students Matthew will also testify in favor of HB 2468, a bill which would improve the effectiveness and adequacy of the workforce education investment surcharge.
On Tuesday, I collaborated with Ha Nguyen to garner the support of the Racial Equity Team (RET) for HB 2299. Ha is a policy associate for Diversity, Equity, and Inclusion and Basic Education for Adults for SBCTC. HB 2299 would decrease recidivism, address social justice, and expand access to educational services. It's also in alignment with the SBCTC vision statement centered on decreasing disparities and increasing racial equity. HB 2299 had a hearing in the House College and Workforce Development Committee, and we hope it will move from committee soon. The passage of this bill would demonstrate the resolve of the Washington State Legislature to address and act on the racial inequities that exist within our education and prison systems.
Though my time as a legislative intern has only begun, I have already learned some valuable lessons. For example, working with the RET has afforded me the opportunity to meet and work with a diverse group of people. The Racial Equity Team is a people of color-led network of community leaders, activists and lobbyists who work to empower communities of color across Washington state and uplift their political voice through legislative advocacy. While observing the collaborative efforts of RET, I learned the importance of building relationships. This is extremely important to me because the relationships that are formed serve as a bridge of opportunity that others will use to reach their fullest potential. Indeed, serving as one brick in the bridge of opportunity is a stepping stone to reaching my fullest potential as a student representative and advocate for the 360,000 community and technical college students in Washington State.