Administrators of Color Leadership Program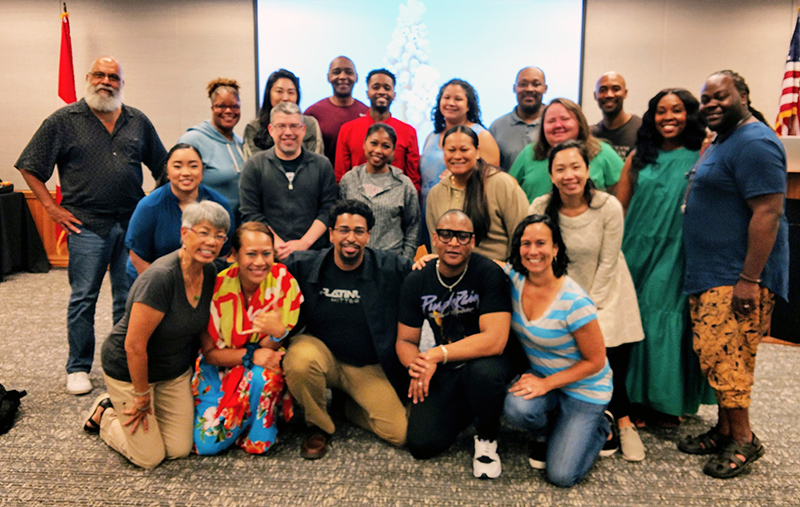 2020-2021 Update from Aaron Reader
Hello Future AOC cohort members,
On behalf of the AOCLP Advisory Board, we would like to provide you with an update for the 2020-21 academic year. We first would like to acknowledge that the COVID-19 Global Pandemic has significantly impacted our communities. We also know that communities of color have disproportionately been impacted by this crisis. In addition to COVID-19, we are also living through the individual, structural, and systemic racism that continues to persist throughout our society. We are also faced with the collective trauma from the recent killings of George Floyd, Breonna Taylor, and Ahmaud Arbery. Our hearts break for their families and our communities.
With all things considered and the intended design of the AOCLP being centered around the "face-to-face" experience, relationship building and peer learning, COVID-19 has significantly shifted that modality. We are in very difficult times and the road ahead is not going to be easy moving forward. With that in mind, we have made the difficult decision to defer this year's upcoming cohort.
During this time, the Advisory Board will be making ongoing program assessments and revisions that continue to strengthen the mission, goals, and intended learning outcomes for the program. Please refer to the Administrators of Color Leadership Program website to stay updated on program changes and dates for 2021.
Aaron Reader, Vice President of Student Services at Highline College
Administrators of Color Leadership Program
The Administrators of Color Leadership Program is designed for community college educators of color (full time faculty, program managers/directors or those in an associate dean/dean position) in Washington's community and technical college system whose career interest focuses on assuming increasingly more responsible administrative positions, with the ultimate goal of becoming an executive leader of a community college. The program is intended to develop a pool of highly qualified Administrators of Color, and to assist them in attaining high-level positions in our community and technical college system, thus creating a more robust pipeline to executive level positions.
Program participants will gain leadership skills and strategies through the following:
Understanding leadership competencies required of aspiring leaders.
Understanding the role of critical race theory, cultural competence, equity, inclusive education and diversity as related to leadership as Administrators of Color.
Understanding the role of leadership in student success - challenges and opportunities.
Understanding change leadership within higher education.
Understanding their own leadership style and capabilities, professional development needs, and develop a plan to achieve their desired career goals.
2019-2020 Retreats
Retreat
Date and Location
Summer Retreat
Aug. 19-21, 2019 - Semiahmoo Resort, Blaine
Fall Retreat
Oct. 29-30, 2019, 8 a.m. to 5 p.m. - Davenport Hotel, Spokane
Winter Retreat
Jan 23-24, 2020, 8 a.m. to 5 p.m.

–

Hotel Interurban, Tukwila

Spring Retreat
Apr. 21-22, 2020, 8

a.m. to 5 p.m. – Holiday Inn Downtown, Yakima
Current Retreat
Past Retreat Materials
Meeting materials and handouts for past retreats.
Advisory Board and Participants
Membership information including Advisory Council contacts and current year participants.
Expand All
Currently a full time faculty member, program manager/director or in an associate dean/dean position in Washington State's community and technical college system.
All participants are required to attend all four retreats, as this interaction supports both the the cohesion and relationship-building of the participants. The fall retreat is where mentor/mentee pairing will take place.
The program includes:
Four face to face meetings (summer, fall, winter and spring).
Professional career plan preparation.
Critical Race Theory/Racial Formation Theory frameworks.
Mentoring.
Detailed assessment of leadership skills.
Networking with System leaders and other Administrators of Color.
Registration is now closed for the 2019-20 Administrators of Color Leadership Program.