Introduction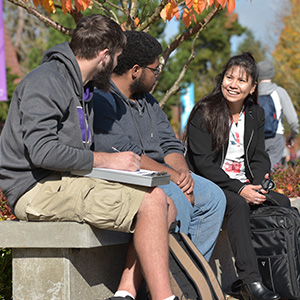 Washington's community and technical colleges were designed around a remarkable idea: that education past high school should be available to everyone, regardless of their economic or academic backgrounds.
Each year, about 262,000 students of all ages, races and backgrounds come to our colleges to find the educational path that's right for them — whether it's to train for a career, learn a skilled trade, earn an industry certificate or apprenticeship, or transfer to a university.
However, we have more work to do.
Vision
Our strategic plan aligns with a vision statement approved by the Washington State Board for Community and Technical Colleges in June 2019:
"Leading with racial equity, our colleges maximize student potential and transform lives within a culture of belonging that advances racial, social, and economic justice in service to our diverse communities."
Our intent is to improve completion rates across-the-board for all students, and to improve completion rates faster for students of color. This is both a moral and practical imperative. At a time when most jobs require education past high school, our colleges are producing white graduates at higher rates than graduates of color. We need to close those equity gaps so all students can earn a college credential, secure better paying jobs, and participate more fully in their communities and our economy.
Accountability
We review metrics regularly to track progress toward meeting strategic plan goals.