Positioning Young Adults for Promising Careers
Part of the Career Connect Washington initiative, Career Launch programs provide students with real-life work experience related to their classroom studies. Students graduate with skills to be competitive in the job market and with a valuable credential beyond a high school diploma.
Career Connect Washington describes Career Launch as "the most intensive type of career connected learning program." Its goal: to have 60 percent of young adults beginning in the class of 2030 participate in a career launch program.
Career Launch programs can include:
Registered apprenticeships (automatic Career Launch endorsement). View the list of active apprenticeship programs.
A post-secondary institution participating in the Washington College Grant, College Bound Scholarship or Passport programs with a paid work-based learning component as a credentials requirement.
A secondary career and technical education program that meet credential requirements and include a work-based component.
Mandatory Criteria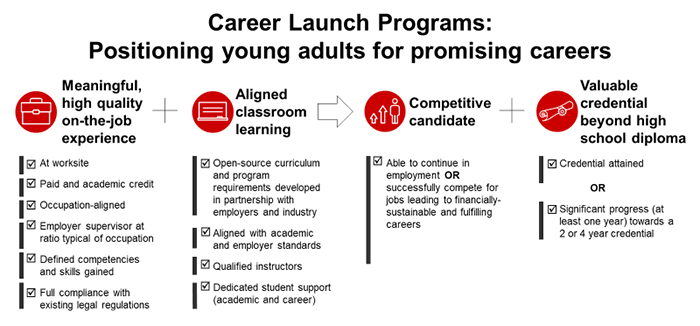 Endorsement Needed
To be designated as a Career Launch program, the program must first be endorsed. This endorsement also unlocks the door for certain types of state funding. Learn more about the endorsement and the program review process.
Funding
There are three types of targeted funding for Career Launch programs:
Career Launch development or expansion
Career Launch enrollment growth
Career Launch equipment
Learn more about these funding opportunities and how to apply for each.
Career Launch Frequently Asked Questions (FAQs)
Contact