Faculty of Color Cross-Institutional Mentorship Program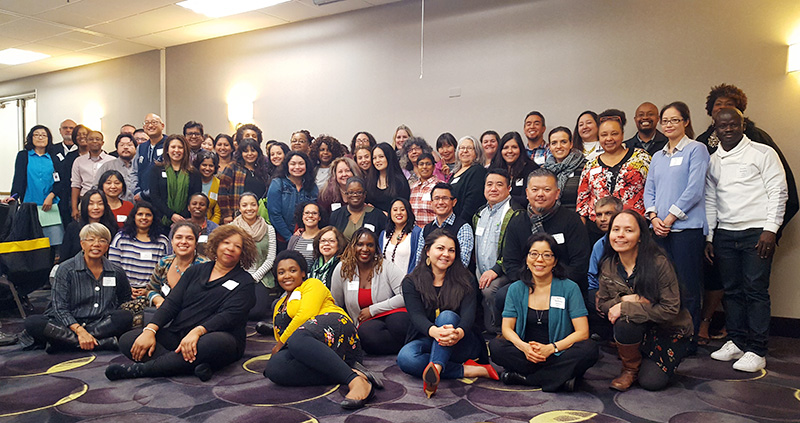 The 2021-2022 Program
The Advisory Board is pleased to announce that the mentorship program will be back for the upcoming 2021-2022 academic year in a limited capacity. While the program might look a little different due to continued uncertainty, the board is determined to address the challenges Black, Indigenous, and other faculty of color experienced and continue to experience – with remote instruction due to the COVID-19 pandemic amidst racial injustice, intense isolation, and political divisiveness. We also recognize the anxiety-related concerns faculty are experiencing about reimagining what the workplace (classrooms) and online instruction will look like this fall and beyond. The board is committed to creating supportive spaces for BIPOC faculty; therefore, we will offer virtual retreats and embedded group mentoring opportunities quarterly. There will also be social hours with advisory board members for "meet and greets" over the academic year.
If you have questions or concerns, please contact:
Donna Miguel - d.miguel@bellevuecollege.edu or Tanya Velasquez - iamtanya@uw.edu
Program Participation
The board's goal for this year is to have a "transition" program that will serve to address all the aforementioned concerns for BIPOC faculty in an online format. The board also understands that different institutions will have different safety and budgetary restrictions, which is why the retreats will be entirely online for 2021-2022 and offered at a reduced rate for participation. Upon completing the registration and paying the nominal fee, you will receive Zoom links and other details.
Two-step Registration process:
Program Registration Fee single payment of $50.00 for all annual program activities. (unless you were part of the 2019-20 faculty cohort whose program was disrupted by Covid-19 restrictions): payment link
Program Registration. This is separate from the program fee and must be completed. Information you provide will be collected by the advisory board only: program registration link
2021-2022 Retreats
Retreats will be held remotely
Dates and Times
Social Hours
Fall Retreat
Friday, October 22, 2021
12:30 p.m. to 4:00 p.m.

Friday, October 22, 2021
4:15 p.m. to 5:30 p.m.

Winter Retreat

Friday, January 21, 2022
12:30 p.m. to 4:00 p.m.

Friday, January 21, 2022
4:15 p.m.-to 5:30 p.m.

Spring Retreat

Friday, May 20, 2022
12:30 p.m. to 4:00 p.m.

Friday, May 20, 2022
4:15 p.m. to 5:30 p.m.
Our Mission
This mentoring program is focused on making explicit the connection between faculty success and student success by building relationships and offering professional development targeted towards the unique needs of BIPOC faculty. Utilizing various mentorship to encourage the kind of relationship building that holistically strengthens both mentor and mentee, faculty strengthen their teaching, student learning, and the cultural climate at their respective institutions.
The Faculty of Color Cross-Institutional Mentorship Program serves full-time tenured and tenure-track faculty who identify as being of color by naming and challenging historical institutional barriers through:
Supporting and facilitating faculty development, personally and professionally, through one-to-one and group mentoring.
Increasing collaboration and networking opportunities cross-institution.
Creating a community that will impact the success and retention of faculty of color at their respective institutions.
Offering professional learning opportunities targeted towards making explicit the link between student success and faculty development — improving instructional quality.
Developing individual and collective capacity in effective cross-cultural communication.
Further identifying and growing professional development programming addressing the needs unique to faculty of color in our Washington State community and technical college system.
While designed to support individual faculty members as they grow in their new roles, this program will also indirectly:
Impact future recruitment and hiring of diverse faculty, and
Improve the cultural climate of our institutions.
Advisory Board Members
Advisory Board members and their school affiliations.
Faculty Participant Testimonials
Faculty share insights about their experiences in the program.
Expand All
Despite efforts to diversify hiring and recruiting practices, faculty of color experience systemic challenges that remain unaddressed. The number of full-time faculty of color across the Washington state community and technical college system has remained within 14-16 percent since 2010. Therefore, there is a need for both strong mentorship and more transparent support systems.
All participants are encouraged to attend all three retreats, as this interaction supports both the mentor/mentee relationship, as well as the cohesion and relationship-building of the participants. Participants will also be invited to attend topical group mentoring sessions for peer-to-peer support.